Everytable

Everytable is a startup in LA that combats food deserts across the city. Everytable opens restaurants stocking pre-made, healthy food throughout Los Angeles, and prices according to the neighborhoods they serve. As the lead Graphic Designer, I worked directly with the Senior Marketing Manager and CEO to unify and execute Everytable's brand identity, from look + feel, to retail designs, to content strategy, to overall brand values and messaging.



Moodboard







Sweetgreen
Citizen Sprout
Tender Greens
Lemonade



Everytable's high-level message is simple and provocative: healthy food is a human right. How that message expands into fonts, colors, photography, brand values, staff values, and more, requires deeper thought. I collaborated with the leadership team to build a forward-thinking brand identity and content strategy across touchpoints.





Brand identity
Social
PR
Events
Retail
Wayfinding & messaging




---
OPPORTUNITY
Brand Identity



The problem —
Everytable worked with numerous agencies since its inception, retaining certain elements and discarding others over time. I was brought on to synthesize the visual branding, and to collaborate with senior leadership to develop a comprehensive messaging framework.





Everytable's goal is to become franchisable — every Everytable nationwide will strike the balance of familiarity between stores, and a sense of belonging to the store's community. To achieve this scalable look and feel, we began with a brand book, identifying the core mission, values, and look and feel of the brand. We then applied those values and aesthetics to in-store assets, social posts, photography, and more.

The brand is colorful, fun, friendly — wild postings, postcards, and ads could be visualized in any neighborhood as a friendly addition. They are exciting and noticeable, but not imposing on a neighborhood's culture.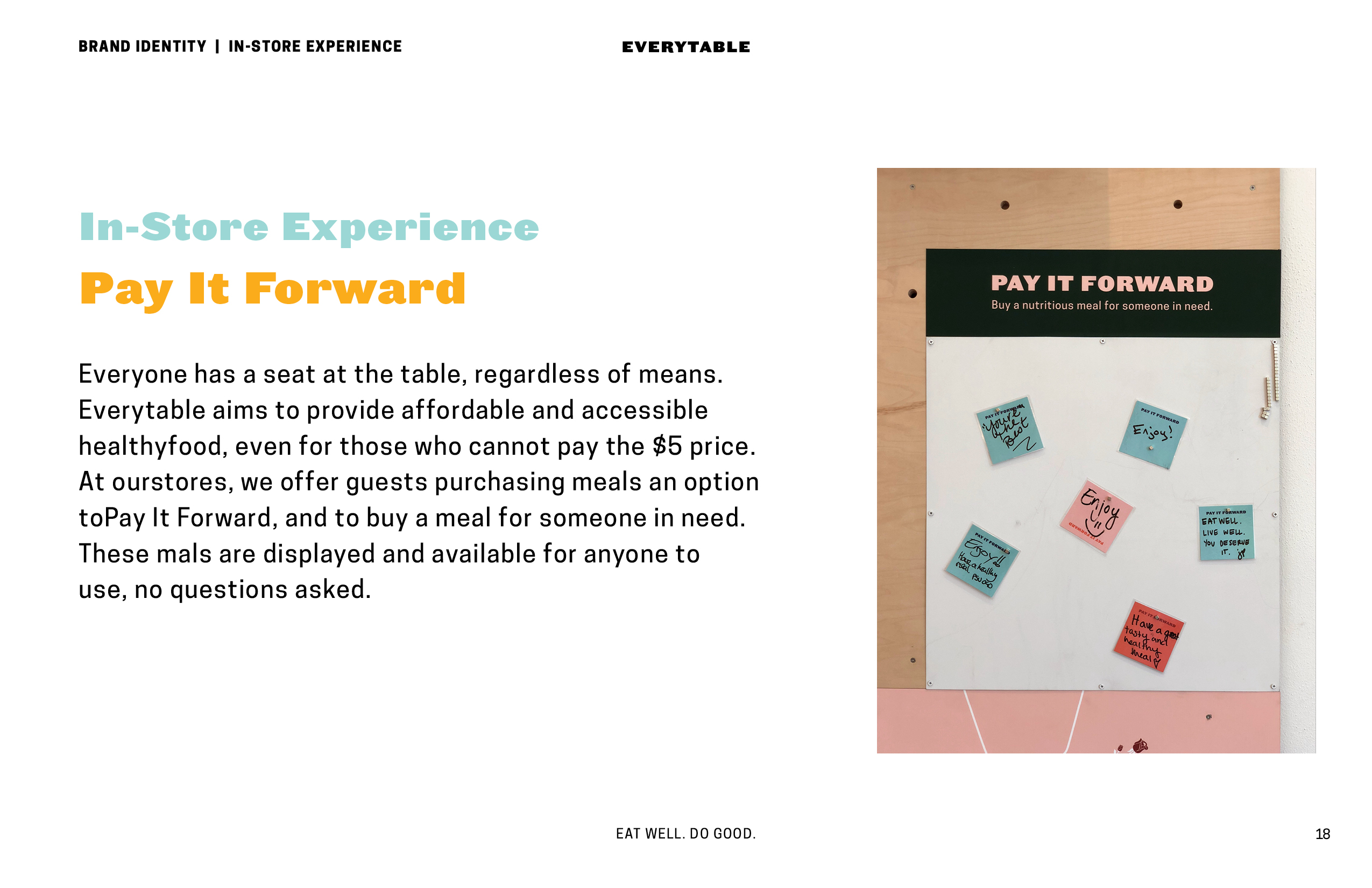 SOLUTION 2
Content Strategy
Laid out in the brand book, we worked to better synthesize the disparate talking points, facts, and more about the Everytable business and mission. We broke them out into: 1) Brand values; 2) Food values; 3) Key Messaging. This ultimately offered a framework to efficiently brand, market, and message collateral across the company.
Everytable has a highly-engaged email list. Developing an email program and look/feel was critical in continuing to engage customers outside of the stores.