Canndescent

A previously untapped industry, consumers were craving a brand with a meaningful brand identity — a product and design to follow and covet. Brands in the cannabis market were aggressive and unapproachable. As the industry opened up to a new segment of consumers, there was a gaping hole in the market for a simple, elegant, and elevated product.



Moodboard

Competitive Marketplace
Humboldt Apothecary
MINERAL
Flowkana
dosist
Beboe





Canndescent is based on a simple mantra: The Art of Flower. Cannabis and the plant as an art, translating to an elevated-yet-accessible identity across touchpoints. As the industry and marketplace grew, Canndescent entered into a new phase of its marketing — the need for a compelling and unifying identity and messaging from packaging, to wholesale, to web, to email, to social, and more. I was brought on as the Digital Graphic Designer to synthesize the groundwork laid tobuild and message a full experience on the digital front.




Digital Touchpoints
Web
E-commerce
Digital advertising
Email
Social
I. Web

The problem —
Canndescent's brand identity in physical form — packaging, signage, sales collateral — is covetable, identifiable, and easily scalable. The same can't be said for web, lacking any uniformity in typography, colors, or systems.

The digital arm of cannabis as a whole is also challenging — you cannot sell the product online, and there are major restrictionsa cross digital and social advertising. The question becomes, what meaningful purpose does web serve for Canndescent? The answer fell into three major buckets: 1) Digital styling + branding; 2) Seasonal and SEO content optimized for education; 3) Increased data touchpoints for offline sales and transactional data.




Solution 1 — Comprehensive Digital Styling


I implemented a comprehensive style guide across all pages. This adapted print typography & styling to an accessible web format. I applied these same principles to the mobile iterations.

Click to expand
Mobile view available upon request
Solution 2 — Optimized Content


With curiosity about cannabis at an all-time high, Canndescent needed to become more nimble in SEO and web optimization. We built out seasonal landing pages, enabling Canndescent to organically appear for users searching across topics.


Solution 3 — Increased Data Touchpoints
The Sales team is the last point of contact Canndescent has with its customers, before product hits shelves in-store; the website can provide crucial data for customers that Sales can leverage across its relationships. If there is a customer who is interested in the Stylus, in Cartridge form, in the Calm effect, and searches for stores in the Hermosa Beach area — there are at least 4 critical pieces of data the team can leverage in increasing Canndescent footprint in-store. On a strategic level, we worked as a team to expand the number of pages sitewide, to be able to form meaningful stories about users and customers.
II. E-Commerce

The problem —
As described, cannabis cannot be sold online. Further, there are major restrictions to digital and social advertising that prevents Canndescent from directing users to its home site. Launching an e-commerce site that avoids messaging related to the home company and cannabis opens up a major door in the advertising space.

The launch of an e-commerce store also legitimizes Canndescent's value as a lifestyle brand, and introduces Canndescent to new customers outside of its typical reach. What if Canndescent could partner with other brands, designers, and more, to build a full portfolio of associated merchandise and products?



Solution 1 — E-commerce Design
Working directly with our CMO, content strategist, Product Manager, and developers, I built out the full e-commerce style guide, UX flow, and all pages sitewide.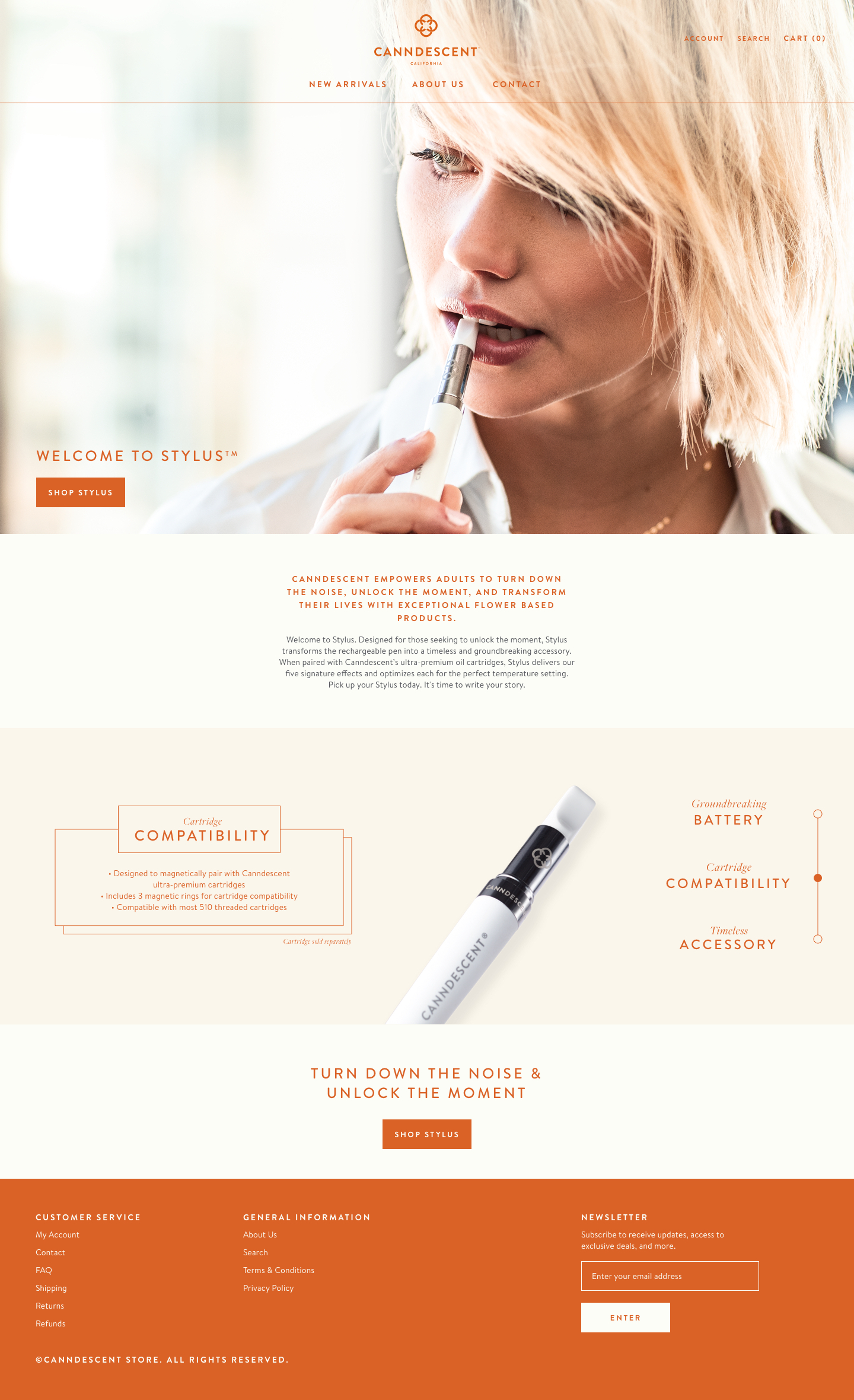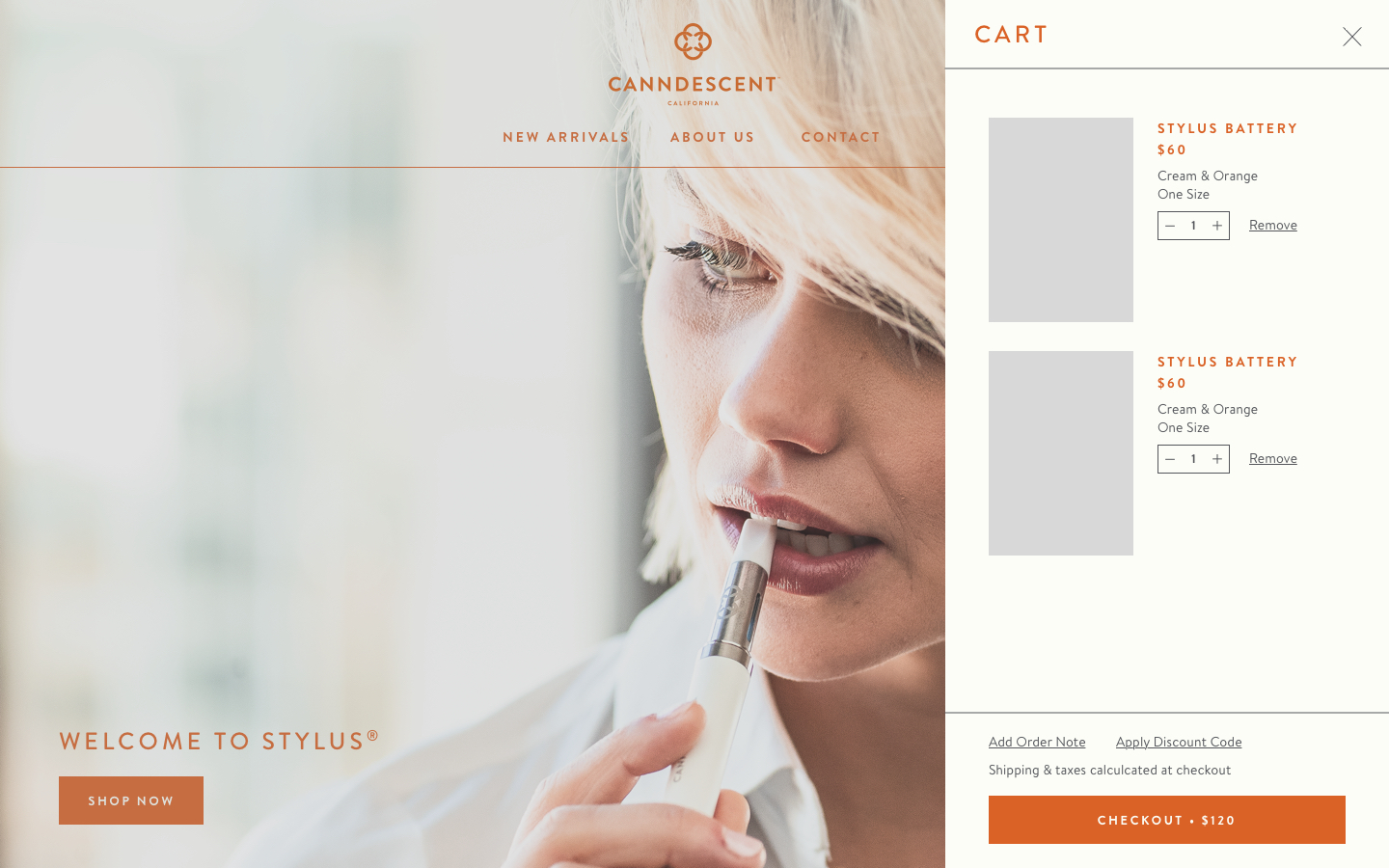 Solution 2 — Brand & Merchandise Partnerships
Legally, the e-commerce site cannot be cannabis-related. Strategically, a non-cannabis arm of the business expands both Canndescent's customer base and its legitimacy as a brand outside of cannabis consumers. Canndescent's product model ("How do you want to feel?", promoting effects rather than strains — Calm, Cruise, Create, Connect, Charge) also lends itself well towards a strategic framework for product partnerships. Thus, brand and product partnerships that align in aesthetic, price point, and overall brand affninity become a compelling way to grow Canndescent's overall revenue.